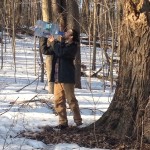 This Guy!!!  Sean Roulan is our farmer for the 2015 Season.  He has been a member of the G<3F Family for some time and he decided to jump behind the wheel and get involved with veggies.  We are very grateful to have him on board and look forward to his flavors.  A yoga farm has always been his dream, and he feels blessed to call Growing Heart Farm home.  Hosting guests on the land is one of his favorite activities, and he always welcomes volunteers on the farm.  Sean has been practicing yoga for over a decade to live in the flow and heal his scoliosis.  He is is trained in Prana flow yoga and Thai massage through Simon Park Yoga. He not so secretly believes that gardening is the most advanced practice of yoga.
Sean has a huge passion for growing flowers and healthy food, which began at a young age in his Okinawan grandmother's garden. He hails from the Finger Lakes in western NY and has been in the horticulture field for 13 years.  Sean studied horticulture and ecology at UMASS Amherst before attending the Conway School of Landscape design where his focus was permaculture and ecological landscape design.  His work has taken him all over the country and ranged from greenhouse floriculture, landscape design/build, nursery management, cut flower production, and organic farming. .
He is a farmer, gardener, educator and ecological landscape designer, who loves to build gardens and farms from the soil up.  He has designed and planted beautifully edible gardens/farms at homes, schoolyards, tribal reservations, urban parks, and farms. He formerly ran a CSA farm near Philly, designed a farm for an iron chef, operated a non-profit edible schoolyard organization and taught the members of 13 Philly parks how to garden while implementing beautiful and sustainable gardens.  His highest form of service in this life is teaching humans of all ages to garden, while creating flower and food filled ecosystems on this sacred earth.
Expect to hear more from Sean soon!
We are stoked to have him!