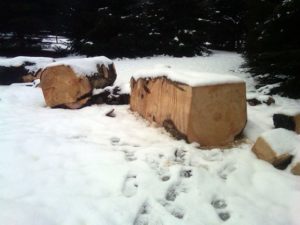 The guess is that this pine was about 60 years old.  the 96 year old neighbor remembers planting this tree.  jay, who is 56 has pictures of his first communion with the tree about head high.  It was damaged in the october snow and threatened to fall on a house.  Everyone was sad to see her go.
Last november on a cold sunday morning about 8am the neighborhood rallied.  An off duty bucket truck, a 12″ wood chipper, 2 back hoes, and about 10 guys all showed up.  A guy up in the bucket started high and took down each limb 1 by 1.  6 or 7 guys would swarm in while he moved the bucket to drag away branches to feed the chipper.  Larger and larger pieces went into the chipper in 4 foot lengths.  What was too big for the chipper and too small for a mill was thrown into the buckets and dumped in our pile of big pine wood to be a future bonfire.  It was quite the scene of ear plugs, wool hats and sweaty middle aged men still holding their own in their carharts.  At the end of the day all that remained were these pieces and 3 huge piles of wood chips.
The son of the neighbor who planted the tree has a portable band saw mill.  It takes pieces 34″ wide.  He is going to start on it next week weather permitting.  We are going to take some of the wood here on the farm – mostly for siding and signs.  We can cut table tops, boards, posts, etc.  let us know if you have any ideas or needs for rough cut pine wood.