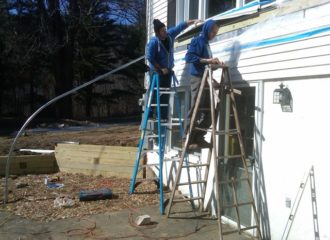 greenhouse – moving along
The boys making it happen.  you can see the western most hoop in the background.  since we are modifying a greenhouse kit we had to make up the exact placement of the arches as we went along.  we lost 10″ by not having the ridge connector.   we spent the day pounding 2.5′ posts into...
"Lean to greenhouse" header
Ben and I mounted just under 3 10′ lengths of pressure treated 2×6 to the side of the house.  This wall is block sheathed in vinyl siding.  we had to cut into the vinyl siding and then cut out a section in the nailers so that we could lay the header flush to the block....