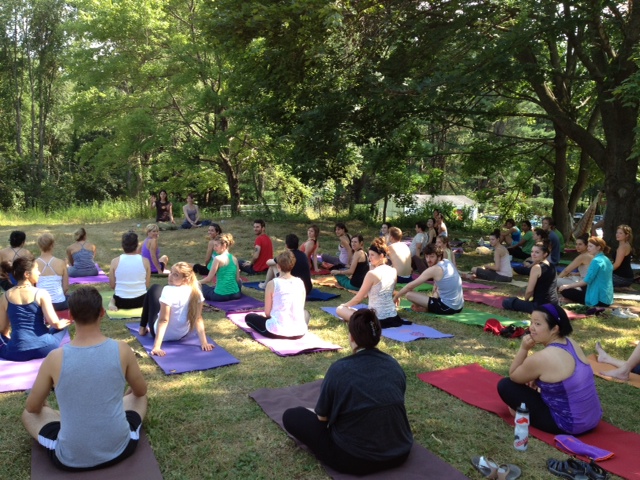 Eggplant
Fingerling Potatoes (in the paper bag)
These little gems are called "Red Thumb", and they are bred to be a small fingerling potato. This type of potato is know for its flavor, and probably best enjoyed simply roasted with some olive oil in the oven. Harvested this early in the season, they're extra tasty and tender. We don't wash the potatoes before hand because they store better when kept dry.
Beets
Green beans
Cucumber
Summer Squash
Lettuce
Basil (bag of greens)
Kale or Chard
Pearl Onions
So my brother has been visiting and working on the farm for the last two weeks, and it's been great. He's told me for awhile now that he's interested in organic farming, and he had some down time this summer so we thought it would be a good idea to come out here and see what it's all about. His first conclusion: you sweat a lot. He has the cush version, too, more of a farm vacation than real work. Except for harvest days we generally let him sleep a little longer than us, and he's been waking up to breakfasts of zucchini bread and peach crisp, made by me. He's actually been a really good worker, and reminded us that when he leaves in two weeks we'll  have to do our own dishes, feed our pig, set the mousetraps, and check the dog for ticks. That's what he's doing right now. As for the field work, he's definitely helping us stay caught up with all the trellising and weeding. His attitude towards organic farming so far: "I'm not ruling it out. I mean, I'm not saying I'm going to be a farmer, but I'm not saying I won't either." Wise words. It's probably best not to get too involved in this crazy, irrational way to make a living.
Anyway, we were out in the field this weekend pruning tomato plants (they're doing well, by the way, and tomatoes aren't too far away…) and it started to sprinkle. As in water began to fall from the sky. And because I wanted to finish pruning and trellising all of the tomatoes, I asked it to stop. I realized in that moment that I had spent the previous two weeks wishing for rain, and thought about how absurd it was that when we were finally getting some drops, I was hoping for it to hold off. This is how absurd it was: It was so hot and dry before this week that we had to irrigate fresh transplants every day for them to just stay alive. The soil was so waterless that we had to run irrigation pretty much constantly on seeds we planted so they would sprout. We had to irrigate so much that the third floor of the house had no water pressure whatsoever. If we run our irrigation off the well 24/7, we can hit about 3 zones of the garden per day. We have 30 zones. Things were not getting water, things were not germinating, some plants didn't make it. We needed this rain. And I told it to go away.
Quickly realizing my absurdity, I tried to change my approach. I dared it to rain harder. I dared it to force me out of the field. Eventually, thank goodness, it did, and our soil is moist once again. We didn't lose too much over the last three weeks, nothing major or of great importance, but Sunday's storm was much appreciated, and makes our lives as farmers much easier, at least for another couple days.
Here are some recipes to try out!
Eggplant Basil Sandwiches (from Asparagus to Zucchini)
1 eggplant, peeled and cut crosswise into ¼ inch slices
salt
1 package cream cheese
½ cup minced fresh basil
¾ cup soft bread crumbs
¾ teaspoon salt
¼ teaspoon cayenne pepper
2 large eggs
vegetable oil
Lightly salt eggplant slices and soak in a bowl of water for 15-30 minutes. Rinse with cold water and pat dry. Mix cream cheese and basil in small bowl until smooth. Combine bread crumbs, salt, cayenne pepper on a piece of wax paper or cookie sheet. Crack eggs into a pie plate or shallow dish and froth with a fork. Spread egg plant slices with herbed cheese, using about 2 teaspoons on smaller slices. Make sandwiches with the slices. Dp sandwiches first in beaten eggs, then in crumbs until well coated. Heat oil to 1/8 inch depth in large, non stick skillet over medium heat. When very hot, fry sandwiches in batches without crowding, until crisp and golden on both sides, about 3 minutes per side. Sandwiches can be kept warm in preheated oven (225) while remaining are being cooked. Nice with a thick tomato sauce.
Eggplant or Summer Squash Parmesan (adapted from Vegetarian Cooking for Everyone by Deborah Madison)
1 ½ pounds eggplant or summer squash
salt and pepper
olive oil
1 ½ to 2 cups tomato sauce
8 large basil leaves, torn into pieces
4 ounces of mozzarella
½ cup parmesan cheese
Preheat broiler. Slice the eggplant or squash lengthwise, about 1/3 inch thick. Brush both sides of each slice with olive oil and broil 5 to 6 inches from the heat until browned. Broil the second side until browned, then remove and season lightly with salt and pepper. Don't worry if it has a dry appearance.
Warm the tomato sauce and half the basil. Spread about a third of the sauce over the bottom of a lightly greased glass dish, then make a layer of eggplant/squash. Lay the mozzarella over the top, the rest of the basil, and sprinkle with the Parmesan. Add the rest of the eggplant/squash (if any remains) and cover it with remaining sauce. Bake in the middle of the oven until bubbling and hot throughout, about 30 minutes.
Refrigerator beet pickles
2 lbs of beets
3 pearl onions
1 cup of sugar
1 ¼ cups white or cider vinegar
1 stick of cinnamon
1 t whole allspice
2 whole cloves
Boil beets until tender. Reserve 1 cup of cooking liquid, then drain beets and let them cool. Slice beets and onions and place into jars. Combine reserved liquid, sugar, vinegar, allspice, cloves and cinnamon in a pot; bring to a simmer and cook 5 minutes. Strain, pour over beets. Cool and cover, store in refrigerator.