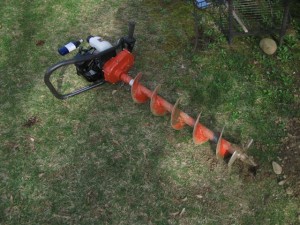 HEAVY equipment… hardly, but who would have thought that operating a power tool would be so tiring.  this thing was kinda nuts, but it was way better than banging a digging bar into the ground.  i drove to home depot this morning – something i fear that i will have to do many more times in the coming months.  For $70  i rented this beast.  it barely used any gas and man, in just an hour or two i got all the post holes i needed put in.  Waaay easier than banging a bar with a sledge hammer and way cheaper than buying metal fence posts.  Tomorrow I will head into the woods and search for another 25 or 30 small trees/branches to sink into the holes that i dug today.  hopefully i will be able to move my arms tomorrow.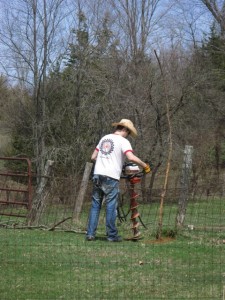 i got in about 15 posts so far and did a test between 4 of them of stapling up the deer netting.  it is invisible – thus no picture here.  we are going to hold off on most of the netting as it will interfere with plowing, but a good idea to get the posts in before it matters and see how they hold up.
in some of the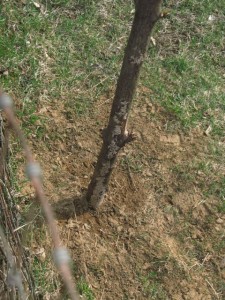 lower parts of the land that are wet the holes completely filled with water.  may have been a better idea to get those posts in asap.  tomorrow i will bring over some dry dirt and tamp them down further.