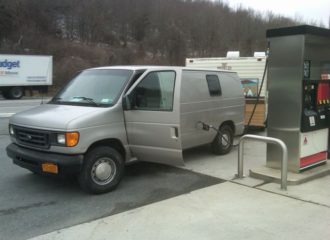 trailer transport – moveable on farm housing
this picture pretty much says it all.  on the road, towing an unlicensed trailer with a a special permit.  spending $ on gas.  looks like the van did around 15mpg unloaded.  i was pretty light on the gas, but will be good to see if we can improve that.  towing i got 10mpg, but i...
heart mobile
our third grey vehicle.  our mechanic joe downey and i drove to farmingdale, ny to buy our new van.  thank you search tempest for letting us look at all craigslist ads within 200 miles. for the last two years we had multiple delivery days partly because we could not fit enough shares into our station...