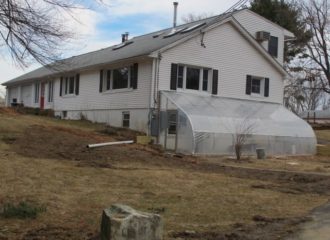 green house ready for seeds
drum tight plastic and all the cracks stuffed with weather stripping.  Game on. Anthony, Kristen, Amber, Ben, Mimi, and I had a busy day on saturday pulling all the last details together and then stretching the plastic.  we made it up as we went, but we are feeling good about it. This chimney out of...
2011 Farmer
Position: Farmer Seeking a farmer to operate a 1+ acre mixed vegetable market garden on 41 acre farm property in Wingdale, NY – 80 miles north of NYC and 1 mile from a metro north station.  Housing is provided.  In 2010 we completed our first year operating a CSA and raising lambs for meat.  In...