This weekend has been busy and great!
Friday we drove up from the city with Anna (new grower!!!) and Abby, a friend who is going to be extra help at harvest time and who hadn't been out to see the farm yet.  This morning we were joined by our friend Liz as well.  We spent the day finishing the mulching and weeding on the raspberries and asparagus and planting seedlings outside.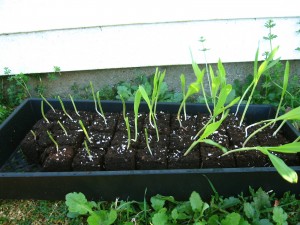 Even though you are supposed to direct sow corn, we planted some seedlings inside last weekend anyway.  Already they are crazy tall.  Check out the difference in size!  The tray was half on the heating pad and half off.
The seedlings we put outside last weekend were alive!  Most of them!
We also broadcast wildflower seeds out by the pond (a shady, sloped area that would not be good for growing veggies but would be beautiful as a flower field… plus great for attracting pollinators).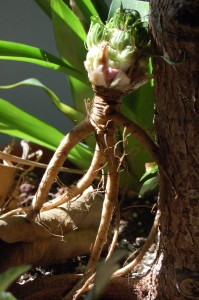 At lunch we had a salad with wild mustard greens and some leftover lettuce sprouts; later we had tea from this crazy dandelion we pulled from the raspberries.
Also… turns out there are fish in the pond.
Thank you Anna and Liz for the photos!