Itching to see the fall colors and get some fresh air? Let's all celebrate fall harvest with a grand gathering at the farm!
Take a break to relax, release and CELEBRATE the best of the harvest season.  Get to know your veggies with a tour around the farm and Ayurvedic cooking class with Dave Nuss. Stretch out with a sumptuous yoga class lead by Abby Paloma and live music with a special guest. Following yoga, nourish your body with an "ultra-ganic" meal grown in our field and prepared by alchemical Chef Anne Apparu.  You will feel the love in every bite, seriously.
Let your guard down for an entire day and be nurtured by the sunshine, fresh air, sublime yoga and meditation, a delicious meal, amazing people, transcendent music… all while supporting your local farmers.
Does it get any better?
When: 2pm Sunday, Oct. 9th
Where: Growing Heart Farm 25 Jeans Dr. Wingdale, NY
Getting here: Take the direct Metro North train from Grand Central to Harlem Valley Wingdale at 11:48am

Exchange: $55 for yoga & cooking class and dinner; $45 just dinner

click below to reserve your spot!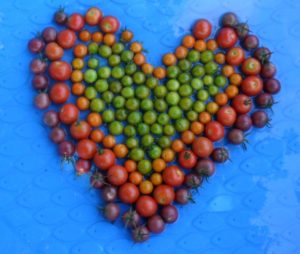 Please email Abby@ghf.dreamhosters.com with any questions.
General Day plan:
2pm friends arrive
2:30pm Farm tour
3pm Cooking class with Dave Nuss
4pm Yoga with Abby
6pm Dinner from the field
8:40pm train back to NYC or stay later if driving back
About the menu:
Every dinner is different as the what is ripe on the field changes as does Anne's divine inspiration. The meal will be vegetarian with Vegan options too.
Here is the menu from our July 23rd Dinner:
Tulsi iced tea
Cucumber lemon water
Seasonal crudites (carrot, cucumber, green beans)
Roasted tomatillo salsa
Eggplant tahini dip
Sourdough focaccia baked in-house (:))
*Kale Salad with green beans, yellow, black, and orange sweet peppers, capers, and creamy pine nut/apple cider dressing
*Lemony pot-crushed red potatoes with dill, parsley, chives, garlic, extra virgin olive oil
*Roasted beets infused with fennel seeds, lime zest, garlic, and thyme and garnished with pistachios
*Raw zucchini ribbons and cherry tomatoes marinated in olive, garlic, and thai basil
*Cabbage rolls filled with spicy chimichurri brown rice
–Carrot, cumin, ginger dipping sauce
Dessert
*raw vegan chocolate cherry pie
*iced lemon basil-infused raw milk custard
About your Chefs:
Anne Apparu is a cook who puts forth the importance of clean fuel and sharing meals at a communal table, playing a caring role in selecting the freshest, most local ingredients, and assembling guests in a familiar setting as to allow for their best to shine through.
Working intimately with private clients to custom prepare their event and as the matriarch in public events. She offers you her inspiration of the moment every time. There is a story to every step.
Some of her public projects include:
Lunch Box Chelsea, a paper bento box filled with market fresh prepared foods, delivered by trolley from home to the Chelsea galleries.
The 18th Restaurant, on the 18th of the month communal table meal at a different place with a different theme and local produce menu.
There Are No Recipes, a series of cooking videos, where children are the creators and teachers of a natural cooking heritage.
Dave Nuss is a graduate of the Natural Gourmet Institute in NYC and Kirpalu's Ayurvedic Lifestyle Consultant Certification. He just finished up a summer cooking at a farm-to-table Quaker camp in PA.  During the year he works as a Culinary and Nutrition Instructor for Children's Aid Society, teaching children elementary-high school the fundamentals of holistic cooking.  Dave is also a regular practitioner of Ashtanga Yoga,