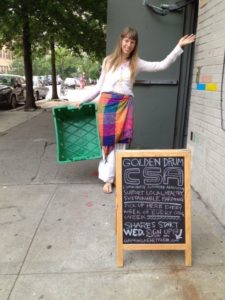 Hello CSA Members,
You know you're a farmer if:
You still have dirt on you when you come out of the shower.
Your idea of dressing up is not wearing carharts.
And you have livestock in your house (for 4 nights  nows).
Ben and I bought a piglet on Friday to raise for meat and we have successfully pulled off not finishing his living quarters for the past few days. "Tomorrow," we keep on saying, but then sure enough something goes awry: darkness falls upon us or it's "oops, I forgot to put the gate up." So, instead every morning, afternoon and night, Chester (named after the the town Colchester we bought him in), our little black and white Hampshire pig runs around the kitchen eating his food next to our dog Oliver. Its quite cute, but the house is starting to smell like pig and hopefully "tomorrow" will actually be tomorrow!
Other than the pig, it's hot! We also have gotten a good amount of rain so the plants are growing well,  as are the weeds. Remember that the beginning of the shares will be lighter in both volume and weight, and you will be receiving lots of leafy greens. Hopefully you will love them all, but if you don't , remember that things taste different when you prepare them differently. You can steam, blanch,  or saute you're greens, you can also chop them up raw in a salad, add them to a smoothie, put them through a juicer, or turn them into pesto! As the year moves on your shares will be filling out with the meatier veggies: squash, cukes, tomatoes, peppers, beans…I could go on.
You're shares will be prebagged at your drop location, but we recommend bringing a backpack or a cloth bag so transporting them is easier and you have a back up if your plastic bag splits. Just a reminder, each week there will be 2 full shares in each green plastic bin. Most likely there will be 2 white bags and 2 black bags(later in the season we might need to add a third colored bag). Make sure to take ONE white bag and ONE black bag(every white bag will contain the same vegetables as will every black bag).
Each week we will add a little description after each vegetable that is in the share. Some or most of the vegetables might be obvious, but we want to do this to prevent confusion. We will always add a few recipes each week to the letter and a salad dressing recipe b/c you will receive salad greens each week.
In addition to using the internet to look up recipes, there are some great books out there that have originated from CSA farms. Farmer John's Cookbook: The Real Dirt on Vegetables by John Peterson and From Asparagus to Zucchini:  A Guide to Cooking Farm-Fresh Seasonal Produce by Madison Area Community Supported Agriculture Coalition are great book for those of you new to the CSA model.
I also wanted to add that if your produce is a little wilty by the time it arrives in your kitchen the best thing to do is place it in very cold water, let it dry out a bit, and then put your vegetables in individual bags to keep them fresh in your fridge. They should perk up just fine. In general we will give you the best possible produce available. We don't use any chemicals or sprays, so expect some minor holes and slight cosmetic defects. The worst of it stays here on the farm, though, and we'll never give you inedible vegetables.  We wash everything before we send it your way, but you may find dirt in hard to reach places, such as between the leaves of a cabbage head. We will do our best to provide you with clean produce, but for items that we would have to ruin to completely clean, please be understanding of a little soil. It's organic.
Thank you all again for joining the CSA and enjoy!
Ben and Mimi
In your share this week:
salad turnips (white round root)
We lived in Alaska for a couple of years and they called these "Snow Apples". Not your regular turnip, much crisper and sweeter. Excellent raw, sliced on salads. I've heard of people making excellent gratins with them.
arugula (light green bagged green)

Best baby green of the spring season. We cut it young and small so it's not quite so spicy.
spicy mustard mix (multi -colored bagged green)

We call this one a braising mix. It's a little stemmier, and you may want to saute it. Personally, I love a little spice in my salad, so I'd probably toss this with the arugual and spinach.
spinach (dark oval shaped bagged green)

I think you know what to do with this.
pac choi (vase shaped green head with a celery-like stem)

A relative of bok choi, this version is a littler more tender and juicy. Probably best chopped and sauted with some tamari, or scrambled with eggs. Also excellent to mix in a salad (once it's chopped).
kale (long, thick leafy green tied with rubber band)

I think most people these days already have their favorite way to fix kale. Maybe the biggest craze is kale chips: Peel the leaves from the stem and tear into small pieces, place on a baking sheet with edges, drizzle with olive oil and sprinkle with salt, and place under the broiler until they're just crispy. My personal favorite is the kale roll: use your leaves as a wrap and put whatever in there. I've been doing a lot of peanut butter and raisins lately, but cheese (especially cream or chevre) works too.
head lettuce (red, green, or speckled varieties)

mint (small bunch of long stems with krinkly leaves)

Make tea! Pour hot water over the leaves and add a little honey, then chill in the fridge for these hot, hot days.
kolhrabi (green or purple round bulb with leaves shooting up from the top)

Probably the weirdest vegetable you'll receive all season, the word kohlrabi means "cabbage turnip". It is in the cabbage family (along with broccoli, brussels sprouts, cauliflower, kale, and a whole lot more), and I like to think of it as glorified broccoli stem. Both the leaves and the bulb are edible, but it's grown primarily for the bulb. This part of the plant actually grows above ground, but functions much like a salad turnip. Peel the skin and slice it on a salad, or try the recipe below:
Kohlrabi Cakes with Yogurt Mint Sauce in From Asparagus to Zucchini
Sauce:1/3 cup plain yougurt
3 tablespoons chopped fresh mint
1 teaspoon lemon juice
pinch of salt
Cakes:
2 kohlrabi bulbs1 clove garlic
1 egg, beaten
1 tablesppoons of dried bread crumbs
1/2 teaspoon salt
pinch of red pepper flakes
Mix sauce ingredients in a bowl and chillat least 30 minutes before serving. Meanwhile, peel and shred kohlrabi. Transfer to a bowl, squeezing out excess moisture as you go (important!). Combine with garlic, egg, bread crumbs, salt, pepper; stir until blended. Heat large skillet with butter or oil Drop mixture by large spoonfuls into hot pan and fry cakes in batches until golden brown, 3-4 minutes per side. Sere hot with yogurt sauce.
Lots of salad this week. Try a homemade salad dressing!
Vinaigrette with Cumin and Mint
The Greens Cookbook Deborah Madison
1 T lemon or orange juice
1 t lemon or orange peel, grated
1 T sherry vinegar
½ t salt
1 clove garlic, finely chopped
½ t cumin seeds
½ t coriander seeds
¼ t paprika
5 to 6 T olive oil
1 T mint leaves
1 T cilantro
1 jalapeno pepper, seeds and finely diced (optional)
Combine the juice, peel, vinegar, salt, and garlic in a bowl. Bruise the cumin and corianger seeds by smashing them in a mortar, or grind them in a spice grinder (or use pre-ground spice). Add them, with the paprika, to the combined ingredients, and then whisk in the oil. Taste, and balance the vinegar and oil as needed; then add the fresh herbs and jalapeno pepper, if using.