About the Farm
Growing Heart Farm is dedicated to sustainable living and education in the New York City Region.  We deliver our CSA shares once a week from spring to fall.  The farm hosts frequent events and retreats and is conveniently located on the edge of the country within walking distance of the Harlem Valley Wingdale Metro North train station 75 miles north of the city.
We practice small scale sustainable agriculture using hand tools, solar power, spring water, and a wood heated greenhouse.  Learn about our history on our blog.  Join us and grow with us as we all re-learn to live in balance.
A bit more about our story is on our blog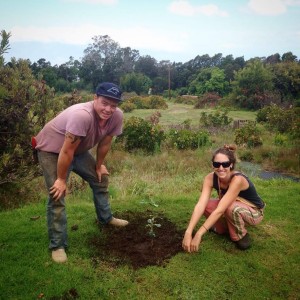 Justin and Jessica Offerman met on the slopes of Haleakala, HI. They were both there working on farms, Justin, waking at 4 every morning to tend the dinosaur-like flowers known as Protea, and Jessica, learning the treasures of caring for tropical fruit trees and encouraging the friendships between cats, chickens, and ducks. They had both spent previous years farming all around the country, Justin receiving his horticulture degree in North Carolina and Jessica receiving her permaculture certification in California. Collectively they have farmed in 15 states and 21 farms ranging in size of 1 to 80 acres and using permaculture, biodynamics, hydroponic, aquaponic, aeroponic, market gardening, and conventional practices. They have viewed every farm as a school and every co farmer as a teacher and learned many ways of cultivating this great big beautiful planet. They have returned to Jessica's neck of the woods to bring back their skills and provide the greatest essential to every community; food.
The Crew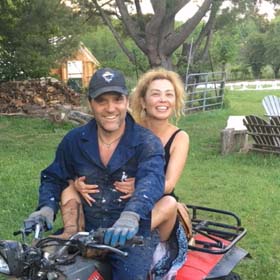 Lewis Kofsky & Jani Moon  met on the farm and years later fell in love.  Lewis is the founder of Growing Heart Farm where he focuses his energies on infrastructure, growing, and events.  He also works for Elmo at Sesame Workshop.  He is Stanford trained in design engineering and appropriate technology and is involved in a wide range of permaculture and building activities.
 Jani is the boss goddess, momma hen on the farm.  By day she trains the top industry leaders in business, radio, and TV,  transforming up-and-coming media personalities into highly desirable star talent.  Her other karmic callings include organizing deeply spiritual, transformational events, women's circles and leading modern day rituals and ceremonies. Also as a trained kinesiologist, she does deep energy clearing  to help open the space for new magical manifestations.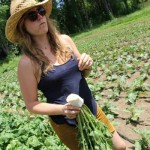 Abby Paloma joined Growing Heart Farm in the midst of their first season. She loves growing real food and feeding her community with veggies and herbs grown from the heart. Abby Paloma is graduate from NYU with a self-designed BA in neuroscience and transformational psychology. She also is a doctor of acupuncture, a certified OM yoga teacher, holds Reiki certification and practices a variety of complimentary healing modalities. A passionate teacher and healer, Abby, splits time between NYC and Pawling, NY where she is growing the thriving community around Growing Heart Farm through facilitating events, workshops and retreats. You can find Abby teaching yoga classes and workshops bi-coastally or nurturing the medicinal herb garden, concocting magical salves or making kale chips on the farm.