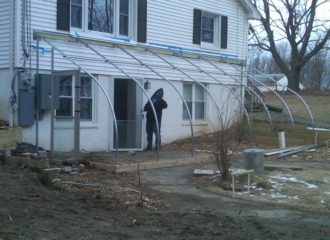 lean to greenhouse progress
anthony after a hard day of work in the cold.  the side walls are mostly in place.  We have some details on the path, the door frame, and the electrical box.   then we will need to flash both sides of the header.  we are still not sure of the best solution below the header....
Big Work Weekend – May 15/16
If anyone is interested in coming to visit, we are planting the field this weekend and would appreciate the extra help!  (See posts below for pics of all the beautiful transplants that need to go out)  Send me an email or post in the comments if you are interested and I'll send directions.  After chores...