heart mobile
our third grey vehicle.  our mechanic joe downey and i drove to farmingdale, ny to buy our new van.  thank you search tempest for letting us look at all craigslist ads within 200 miles. for the last two years we had multiple delivery days partly because we could not fit enough shares into our station...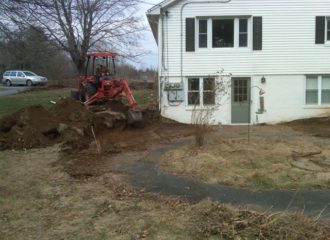 ground prep and railroad tie retaining wall for the new greenhouse
the dream from the beginning has been to attach a half hoop greenhouse to the south edge of the house.  andrew faust and joel salatin both speak about the benefits of this arrangement.  in short it uses the thermal mass and heating systems – we just added a wood stove – of the house to...