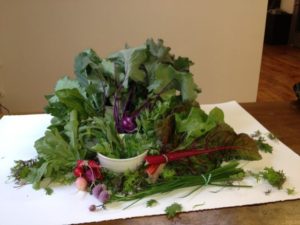 Registration for Growing Heart Farm's NYC and Local CSA is now open. Join us for a season of home-grown, flavor-packed, ultra-ganic vegetables.
CSA Details
Members of our CSA receive a large bag of fresh produce every week for 20 weeks, from June to October. The size of the shares varies depending on the time of year, but will include 6-12 different varieties of vegetables and herbs. The price for a veggie share is $600, with the option to add meat, eggs and/or herbal treats for an additional cost (see below). Half shares are available for $325, with the option to receive a share every other week or be paired with another half share member. You may also split a share with a friend for no additional cost (just sign up together on the same registration form). Read more about the CSA on our website.
NYC pick ups will be on Wednesday evenings from 5pm-7pm at Nathan Love, 407 Broome St in SoHo.
Local pick ups will be on Saturday mornings from 9am-11am at the farm or in Millbrook.
Meat & Eggs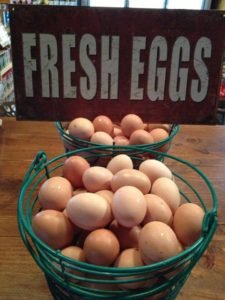 We offer members the option to add a selection of meat to their shares, which is sourced from the friendly folks at Walbridge Farm just down the road from us. You can choose to receive two, four, or six deliveries of flash-frozen, 100% all-natural, humanely-raised beef and pork. The deliveries will be evenly spaced throughout the 20-week season and will include: 1lb ground beef, 1lb stew meat, 1lb beef kebabs, 1 package all-beef hot dogs, 1 package kielbasa, 1 package summer sausage, 1 package pepperoni, 1 package beef bacon and 1 package pork bacon. Reasonable substitutions are possible.
Fresh eggs will also be available from Walbridge Farm's pastured chickens. Members can choose to receive a dozen eggs every week or every other week.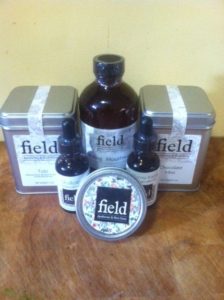 Herbs, Teas, Tinctures, & Salves
We have also teamed up with Field Apothecary & Herb Farm to offer members farm fresh herbs, teas, tinctures, salves and other organically grown goodies that promote health and well-being. You can choose to receive either one or two deliveries of a boxful of these purifying concoctions.
We personally consume or use all of these products and can attest to their quality, value and ethics.
Visit www.growingheartfarm.com/csa/ or email us at csa[at]growingheartfarm.com for more details.
REGISTER FOR OUR 2014 NYC CSA NOW!
REGISTER FOR OUR 2014 LOCAL CSA NOW!