Farm To Yoga
Spend a relaxing day at Growing Heart Farm and indulge in the best of the harvest season. Tour the fields of veggies and learn about the source of your food. Stretch out in the sunshine with a yoga class led by amazing teachers. Following yoga, nourish your body with an "ultra-ganic" meal grown in our farmer's fields and prepared by our team of holistic chefs.
Sunshine, fresh air, heart centering yoga, a delicious meal, amazing people, supporting your local farmers. Does it get any better??
We are honored to share the abundance.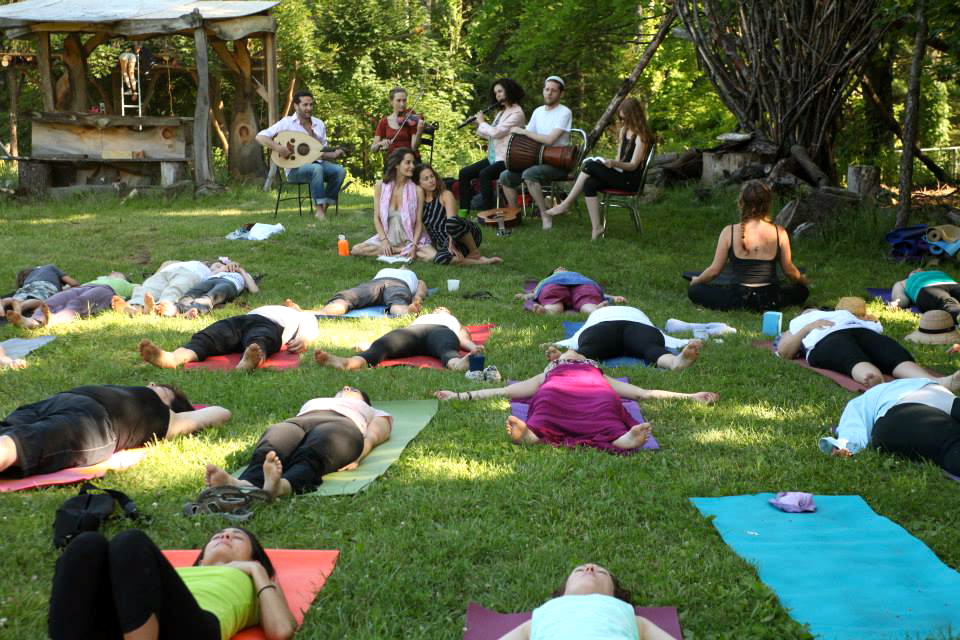 Brown Paper Tickets Ticket Widget Loading…

Click Here to visit the Brown Paper Tickets event page.
General Day plan:
2pm friends arrive. 2:30pm Farm tour with Abby. 4pm Yoga. 6pm Dinner from the field, served in the field. 8pm train back to NYC. (or spend the night camping on the farm.)  (Note: times will change for some Fall events.) For booking details, check out: FarmToYoga.com.
The 2015 Line up Coming Soon!
Farm To Yoga Dinner Exchange: $90 ticket (full experience: Yoga, Tour, Dinner) Overnight Camping $125 (full experience and light Breakfast the following day)
We're super happy to announce that we are adding the option to camp on the farm this season. To have the full experience of a night at the farm stay past sunset and enjoy the starry night. There is an outdoor toilet, sink and shower. (Camping gear is not included.) A light breakfast will be offered in the morning and "check out" time is 11:30am.
Getting to the farm: Growing Heart Farm is less than 80 mile drive from Midtown Manhattan or an easy, scenic train ride from New York City. You can walk from the train station to the farm. For most dates starting at 2pm, take the 11:48am Metro North train from Grand Central to the Harlem Valley Wingdale Station.
About the menu:
Every dinner is different as what is ripe on the field changes. The meal will be vegetarian with vegan and gluten free options. Here is a sample menu from our July 23rd  Dinner: Tulsi iced tea Cucumber lemon water Seasonal crudites (carrot, cucumber, green beans) Roasted tomatillo salsa Eggplant tahini dip Sourdough focaccia baked in-house *Kale Salad with green beans, yellow, black, and orange sweet peppers, capers, and creamy pine nut/apple cider dressing *Lemony pot-crushed red potatoes with dill, parsley, chives, garlic, extra virgin olive oil *Roasted beets infused with fennel seeds, lime zest, garlic, and thyme and garnished with pistachios *Raw zucchini ribbons and cherry tomatoes marinated in olive, garlic, and thai basil *Cabbage rolls filled with spicy chimichurri brown rice -Carrot, cumin, ginger dipping sauce Dessert *raw vegan chocolate cherry pie *iced lemon basil-infused raw milk custard