Join us for 2017 CSA season!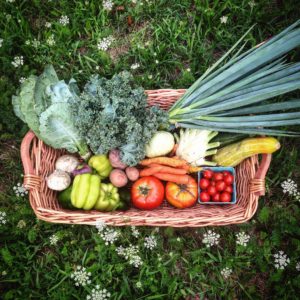 Organic Vegetable CSA- Community Supported Agriculture 
Get farm fresh local veggies every week while building a relationship with your food and the people who grow it.
CSA Share  –  $650
20 weeks June through October – exact start date depends on the development of the spring crops and will be announced in May.

Shares available for pick up at the farm weekly.

Provides one bag of produce (roughly equivalent to a large paper grocery bag)

One share is adequate for most households. If your household is large, you may want two shares.

Weekly newsletter about box contents and how to use/prepare/enjoy
What to expect –  herbs, salad greens, cooking greens, summer squash, cucumbers, tomatoes, eggplant, peppers, radishes, turnips, beets, carrots, broccoli, onions, garlic and much more.
To Sign Up fill out our CSA reg 2017
Please pay by check, made out to Growing Heart Farm and addressed to:
Growing Heart Farm
25 Jeans Drive
Pawling, NY 12564
Frequently Asked Questions
What is a CSA?
How much does it cost?
How do you determine price?
What's in a share?
Where do I pick up my share?
How do I sign up?
When does it start?
What happens if I can't pick up my share?
Can I come to the farm?
What is a CSA? Community Supported Agriculture (CSA) is a simple and efficient way to distribute food directly from local farms to people in nearby communities.   In a CSA you buy a fixed-price "share" of the farm's harvest for the season, and receive a selection of fresh produce weekly from June through October. Your share will be delivered to a convenient neighborhood drop-off spot, where you come by once a week and pick up your vegetables, meet other CSA members, trade recipes and chat with the farmers.When you sign up, you dedicate yourself to being our customer for the year, thus providing us a secure market — a welcome measure of certainty in the fickle world of farming!  We, in turn, dedicate ourselves to being your farmers, providing you with a varied, nutritious, and chemical-free vegetable diet.  When you join a CSA, you know exactly where your food is coming from.  And you can ask us any questions about our farming methods and how we take care of our land to better feed you!  Working directly with you – without the intermediary of stores or wholesalers – gives us the opportunity to provide the freshest quality produce you can buy.  Your veggies will be harvested within 36 hours of your collection time.  You may also discover new varieties and even new vegetables that you would be unlikely to find in a grocery store.In the CSA model, the farm members share the risk as well as the rewards of the farm season.   Mother nature provides no guarantees, and some years a particular vegetable may not do very well.  You, the members, also share in the bounty of the farm, and members receive highest quality vegetables and herbs.  As a member of a CSA, you will be directly supporting small-scale, ecological, local farming, and helping maintain our regional farmlands and rural areas.
How much does it cost?
A full share is $650 for 20 weeks of vegetables from June-October.
How do we determine price?
We are a very small farm working largely by hand and with – instead of against – nature; the care in our techniques are reflected in the quality our vegetables. We feel that the taste of our produce far surpasses what you find in the grocery store and even the farmers market due to the attention and care given during cultivation and harvest.Broken down, each box ends up costing $31.25, when assembling our boxes we strive to create a box that at market would retail for $40-45.
What's in a share?
Shares will include between 7 and 12 types of vegetables and/or herbs per week. The variety will generally be limited at the beginning of the season and increase as the summer progresses. You can find shares from previous years on our blog. Some examples of the selection, by season:Spring – arugula, baby mixed greens, beets, cabbage, chard, chicory, collard greens, kale, kohlrabi, lettuce, sugar and shelling peas, radishes, spinach, turnips, chives, oreganoSummer – basil, baby mixed greens, beets, cilantro, carrots, cucumbers, eggplant, green beans, kale, lettuce, leeks, onions, potatoes, tomatoes, tomatillos, summer squash/zucchiniFall – arugula, cabbage, carrots, chard, collard greens, fennel, kale, onions, parsnips, peppers, turnips, radishes, rutabaga, winter squash and more!
Pick up is at the farm, located in Pawling, NY
2017 registration is limited and is run on a first-come, first-served basis.
You are not considered registered until we receive your payment in full.
We accept checks (cash if you can catch one of us in person).    Make checks out to Growing Heart Farm.
To register, please download a pdf of the registration form and send it to the farm.
CSA reg 2017
Follow the instructions on the form and return your completed form to:
Growing Heart Farm
25 Jeans Drive
Pawling, NY 12564
When does it start? The season is 20+ weeks long, beginning in mid June and running through mid-October. Exact start date depends on the development of the spring crops and will be announced in May.
What if I can't pick up my share You can send a friend to pick up for you. Missed pickups will be donated to local food kitchens after the pick up time ends.
Can I come to the farm? We love volunteers and encourage members to come help out on the farm.  All ages and abilities are welcome, including kids and those with limited mobility.  You'll get to see first-hand where your food comes from as you help with harvesting, washing, weeding or similar work. We are less than a mile walk from the Harlem Valley – Wingdale Metro North train station. Email growingheartfarm (at) gmail.com.